Pedalo Radtours from Passau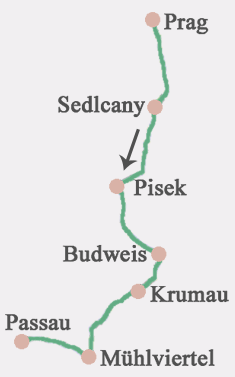 Prague - Passau
Trail distance approximately 370km

Hilly in some parts – for strenuous ascendings you will be rewarded with magnificent downhill rides
Route description: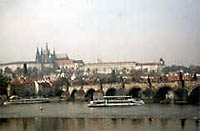 1st day

arrival

Individual travel to Passau (or Prague, if desired). Bustransfer to Prag (departure saturdays 8.30 a.m.). Visit the Golden City of Prag and enjoy the bohemian cuisine with its specialties.
2nd day

Prague – Sedlcany about 65km

We recommend to cover the first 35 km by ship, enjoying the scenic gorges along the Moldau (June - middle of september). Thereafter you bike through sleepy villages to Sedlcany.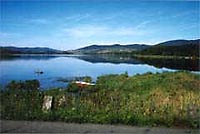 3rd day

Sedlcany - Pisek about 70km

On today`s tour you will be accompanied by castles (Orlik, fort Zvikov) to Pisek. This medieval trade-centre calls the oldest bridge of the country its own.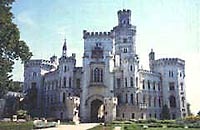 4th day

Pisek – Budweis about 55km

This day your trail leads you along the Otava River to the fabulous castle of Hluboka. This castle, built in the Tudor style, reigns high above the Moldau River and conceals valuable artistic treasures. Today`s destination Budweis (Budejovice) is quite an experience, not only because of its popular Budweiser beer.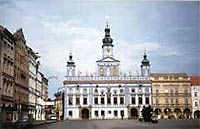 5th day

Budweis – Krumau about 35km

The trail leads you on along the Moldau River into medievial Krumau (Cesky Krumlov), an absolute highlight of your tour. The charming alleys below the imposing castle invite you to stroll around and relax.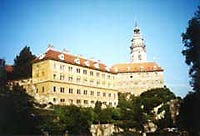 6th day

Krumau – Rohrbach about 78km

Today the route gets a bit sporty. But for the many ascendings in the Bohemian Forest you will be compensated with an overwhelmingly beautiful landscape. Througout Rozmberk and the Lipno Reservoir you will reach Rohrbach in Austria.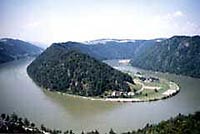 7th day

Rohrbach – Passau about 68km

Through the romantique district of the Mühlviertel you bike mostly downhill to the Danube River and then along the Danube River Trail to your destination, the 3-River-City Passau
Details and costs
Dates
Every Saturday from 28th of April to 15th of September
Service:
8 days / 7 overnight stays, including breakfast, in rooms with shower/bathroom (quality class)
transportation of baggage
detailed travelinformation and maps
Rates per person:

double occupancy room 615,00 Euro
single occupancy room 730,00Euro
Children up to 4 are free of charge – possible extra costs are to be paid directly in the hotel
25% discount for children from 5 to 13 when staying in their parent`s room
Rent a bike:

21- speed touring bicycle with saddlebags 60,00 Euro
E-bike 140,00 Euro
Transfer (approx. 4 hours):

Passau – Prag 65,00Euro
Additional nights in Prague or Passau per person:

double occupancy room 50,00 Euro
single occupancy room 75,00 Euro
Minimum number of participants 4 persons!
Pedalo Radtours
Duschan Tistler e.K.
Westerburgerstr. 6
94032 Passau
Germany
---